Approx. size - Cut to required dimensions based on runner width and tread depth. (see description)
Felt pad - a dense fibrous pad, the type of pad which should be used under installed woven carpet.
Installation pad for stair treads – Cut to size for each tread. Order one pad for each tread. (Tread = step/part you walk on)
Please indicate Tread Depth in inches. Tread depth is best determined from the back of the tread forward to the apex of the curved nosing: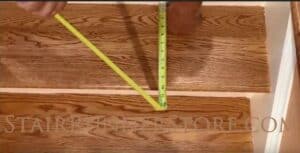 We will cut the pad depth 1 inch less than the dimension you provide – pad is generally installed leaving an approximate 1 inch gap at the back of each tread. This is so that you will not need to staple through both pad and runner material. This depth will allow the pad to reach or go slightly over the nosing.
If you're purchasing pad only (you already have the runner material) – Please indicate Your Runner Width In Inches. Pad will be cut approx. 3″ smaller than your runner width (a difference of 1.5″ on each side) so that the pad will hide once installed.