Swatch Service Details
With your runner order of at least  $500.00, swatch fees up to a total of $35.00 per customer are refundable. 
Refunds are processed when the completed runner order ships. PLEASE SEE MORE INFO BELOW – feel free to remind us that you had placed a swatch order. Please visit our Swatch Service Policies  page for more detailed information.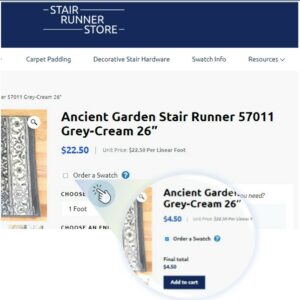 Most Stair runner swatches are $4.50 while higher end product swatches are $6.50. A shipping fee will be added to swatch orders – varies by the number of swatches ordered.
Swatches are a small runner sample, a small cutting of a stair runner product. A swatch is the most cost effective and often fastest way to see a product or a number of products.
Swatches will often ship from more than one location so you may receive more than one package delivered over a number of days.
Swatches do not represent the dye lot of existing stock – as with any textile, dye lots will vary.
Most swatches are approx. 6″ x 12″. Some may be smaller due to availability.
Serging (edge finish on you runner material) may vary in color, size or texture from that of a swatch or sample.
Some swatches require return to us. In these instances, your order will include a prepaid, labeled envelope for easy return.
Please Contact Us with questions about your runner project, our products or our services.