The Stair Runner Store carries a large selection of decorative stair hardware also referred to as stair rods.  Although we can source other stair hardware products, those on the site are a collection that we sell most often and represent the best value among other options. These are 100% Brass, Made in the USA. Sold as a set: Standard options include a Lever Bracket with hidden screws, 36″ long 1/2″ Diameter Rod/Tube, and a choice of 5 Finial Designs. Upgraded Options include cutting to size, a 48″ Length, and Reed or Rope Style Designs. Aside from these upgrades, the finish choice has an impact on the price with polished brass being the least expensive option.
Decorative Stair Hardware Details and Specifications:
Order 1 set for each stair tread – Each Standard Stair Hardware Set Includes: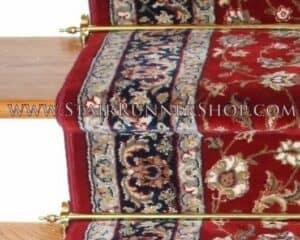 – 2 Lever Brackets, Finials and Mounting Screws.
– Choice of 5 finial designs is standard – no cost difference in finials.
– 1 Rod/Tube 36-inch standard length, 1/2″ Diameter
Upgrades: 
Various Finishes, 100% Brass, Made in the U.S.A. – Finishes vary in price.

Satin Nickel Decorative Stair Hardware

Cut:  – For an added fee – length can be cut in advance to the size needed.

Length should exceed your runner width by at least 1 inch – please inquire. It may also be cut down on site during installation.

Additional Length:   48″ lengths available at added cost.  Please call for custom lengths that exceed 48″.

Important NOTE

: For a 36-inch-wide runner (or greater) – order the 48-inch length, with cutting service or plan to cut on site. 

36-inch hardware will not work for a 36-inch-wide runner.

Rod/Tube Style:  – 1/2″ Diameter Rod/Tube options include a Smooth finish (standard) or Reeded or Rope Style at added cost.

Rod/Tube – These products are commonly referred to as "stair rods" – this is heavy gauge 1/2″ Diameter "tube"    A solid "rod" is available but at added cost and is not necessary for decorative stair hardware. 
 –  Decorative stair hardware is NOT intended for runner installation – the runner should be secured by other means, typically using a carpet tacker – a high powered stapler designed specifically for installing carpet on stairs. A stair runner may also be installed using tack strips. Please contact us with any questions.
 – Made to order: Stair Hardware is custom product, made to order and is therefore not returnable. Please be sure of your order specifications or Please  Contact Us with any questions.